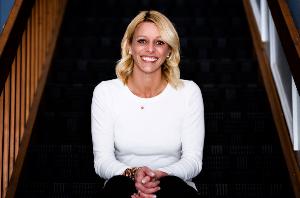 She's Your (wo)man to get the job done
Christina knows that clients hire people, not resumes. She makes sure to research and interview both companies and candidates to find out who they are and what exactly they are looking for in order to provide them the best service. With Christina the entire process is easy and goes as smoothly as possible. Christina offers both clients and candidates professional staffing service and 100% confidentiality.
Christina originally began her career in the medical field after graduating with a nursing degree. She then took her nursing knowledge, skills and network to recruit senior level nursing professionals throughout New England. Ever the chameleon, Christina is a staffing specialist, who has again found success and a home at Barclay Personnel placing qualified talent across varied industries in the market. Christina's knowledge and expertise has helped Barclay grow in ways we never thought it would be possible.
While continuing to be successful as a generalist recruiter in a variety of industries, Christina has also been instrumental in developing and growing the Mechanical Trades division here at Barclay over the last few years. Partnering with mechanical contractors large & small, Christina has positioned herself as the go-to resource for hiring both in house and in the field. Her knowledge of the industry and the market, plus her ever-growing network, has gained her credibility with her clients as well as candidates.
Dog Mom Alert!
When she is not recruiting amazing candidates and developing leads; you can find her at your nearby pizza restaurant eating an 18" cheese pizza by herself or, who are we kidding, any nearby restaurant (and no she will not share). She also enjoys the company of her French bulldog, Jimmy, who is also Barclay's company mascot.